Looping between 30th and 34th streets around railway yards that stretch unceremoniously from Penn Station to the Hudson River, the third and final section of New York's popular High Line opened in late September. This imaginative city park, following the route of an elevated freight railroad abandoned in 1980, has given a great deal of relaxed pleasure to millions of New Yorkers and visitors to Manhattan since the first section opened five years ago, while prompting a spate of property development revitalising a one-and-a-half mile corridor of Manhattan's West side.
Next year, the Whitney Museum will reopen in a new building designed by Renzo Piano right by the High Line, while soon enough the Hudson Yards will be covered over as 16 new skyscrapers conceal the railway tracks and a whole new city quarter complete with five thousand new homes, schools, places of work and entertainment, markets and cafes comes to life. While the High Line cannot be given the entire credit for revitalising Manhattan's Lower West Side, inspired city parks have long been agents for urban development as well as welcome breathing spaces between buildings and crowded streets.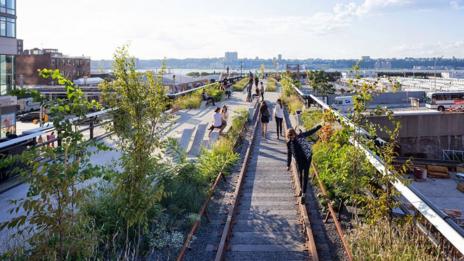 In fact one of the very first modern city parks – Princes Park in Toxteth, Liverpool opened in 1842 to designs by Joseph Paxton of Crystal Palace fame and the architect James Pennethorne – was planned with elegant middle-class homes around it. It was the presence of the park that attracted upmarket homebuyers, and the pattern was soon repeated not just in England, but throughout Europe and across the Atlantic, too. In 1850, Frederick Law Olmstead, the American landscape architect and social critic, paid a visit to Paxton's Birkenhead Park, on the other side of the Mersey. Opened three years earlier, this was the first publicly funded park in Britain. After a stroll through this well tended city park, Olmstead wrote, "I was ready to admit that in democratic America there was nothing to be thought of as comparable with this People's Garden."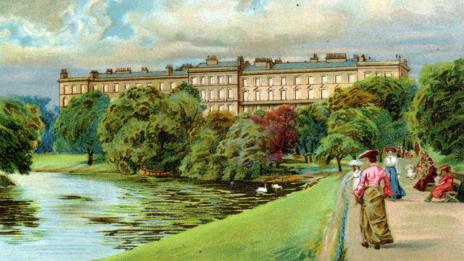 Yes, there had been royal hunting grounds, like Dublin's magnificent Phoenix Park, given over to the public and the glorious London Parks came about this way too, yet this new form of truly public park was something new. With Calvert Vaux, a London born architect, Olmstead went on to plan one of the most famous urban parks of all, Central Park at the heart of Manhattan's defining grid of 19th-Century streets and avenues. Today, despite a chequered history of decay, crime and torpor, Central Park is very much loved and thriving. At two-and-a-half miles long and half-a-mile wide, it is an enormous green space visited by some 35 million people a year. And, even if it is overlooked by a plethora of skyscrapers – good, bad and indifferent – it is big enough to feel happily lost in while spotting raccoons, red-tail hawks, opossums and woodchucks.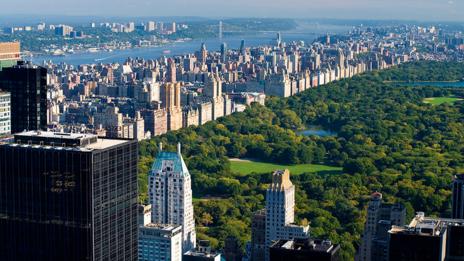 At much the same time, Emperor Napoleon III commissioned Baron George-Eugene Haussmann to re-plan a great wedge of Paris. One of Haussmann's finest achievements was the Bois de Boulogne, designed to emulate and doubtless to better London's spacious Hyde Park. On the western edge of Paris, Haussmann formed a rolling, English-style parkland, two and half times the size of Central Park. The Bois de Boulogne is so very big that it has absorbed many different aspects of Parisian life, from the prostitutes who haunt it after sunset through famous racetracks and lush botanical gardens to the one-time home of the Duke and Duchess of Windsor. One section of the park, the Jardin d'Acclimatation, is given over to a children's amusement park, complete with a puppet theatre, carousel, junior science museum, a kaleidoscope of rides and entertainments and, from 27 October to Frank Gehry's sensational
Fondation Louis Vuitton
, an art centre looking for all the world like a regatta of sails formed in daring, overlapping curved sections of timber, steel and, mostly, glass. This is guaranteed to become one of Paris's major attractions, centred not in a grand
rue
,
boulevard
or
place
, but in a city park.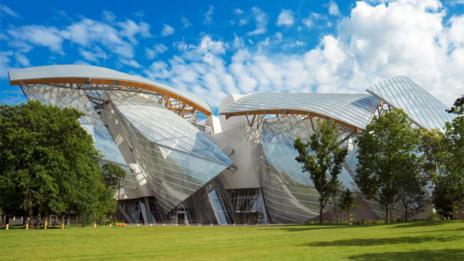 Because they are places of escape and relaxation, places to daydream and idle hours away, from early on city parks have been showcases of exuberant, mystical and even fairy tale architecture. The white stucco terraces John Nash built around Regent's Park in the 1820s are magical, dream-like creations. From childhood, I fell under the spell of Cumberland Terrace, a thrilling adventure in romantic Neo-Classicism. From the big sash windows of the flats it houses today between white stucco Roman columns, you can listen to the grunts, howls and calls of exotic animals in Regent's Park Zoo.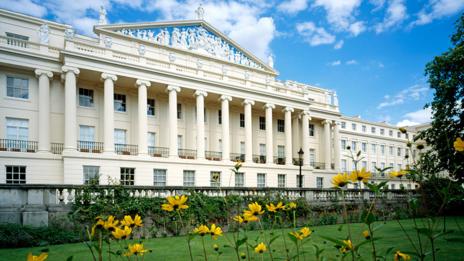 A few years before John Nash was commissioned by the Prince Regent – later George IV – to design Regent's Park around what was to be an enormous royal palace – Gustav III of Sweden called on Louis Jean Desprez, architect and set designer for the Stockholm Opera, to create Turkish military tents for the Royal Guard in Haga Park. Desprez did not disappoint his patron's passion for the exotic. Here in this royal Stockholm park – long since open to the public – he built three "Sultan's Tents", fashioned in copper and painted in stripes the colours of the Swedish flag. These remain a lovely surprise for visitors to this dreamy park, adorned with other architectural eye-catchers, especially when seen in the depths of winter covered in snow. One is a now a museum; another, a restaurant.
Perhaps, though, the most fantastic city park of all is Barcelona's Park Guell, designed by Antoni Gaudí. Originally, this private venture was meant to have been developed along the lines of Nash's Regent's Park, with a number of expensive villas for the city's newly affluent bourgeoisie. It was not to be – and perhaps we should all be grateful, for the park has long been for everyone, a playground of rich architectural fantasy and structural daring. The highlight for most visitors is the long serpentine, mosaic-covered bench with its views out across the city centre below. Improbably, this most organic, colourful and apparently irrational of all architectural conceits is supported by a singularly imposing Doric colonnade, as orderly and grand as the bench is sinuous and enticingly informal.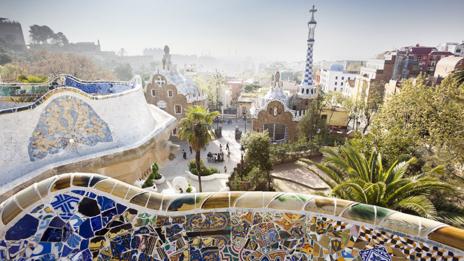 You can find this sense of playfulness and order in generous city parks worldwide. I was startled by the informality of Japanese people out to enjoy themselves with gusto – from Elvis impersonators to walking 'fashion statements' – along the cherry-blossom lined avenues of Yoyogi Park in Tokyo. Here is the serene Himeji Shrine, devoted to the spirit of the Emperor Meiji who died – a god presumably – in 1912, and, alongside him, those all-shook-up Elvis impersonators sporting outlandish quiffs and writhing in a manner that would have been wholly incomprehensible to Emperor Meiji.
With the latest section of High Line, and with Gehry in Paris, city parks are evidently as special as they ever have been. Whether or not they are good for the economic life of cities – and they usually are – urban parks make us and the flora and fauna we share them with happy. They are inherently democratic places, for everyone regardless of income or background. They are spaces where we can all daydream, play games, keep fit, slump in deckchairs, walk the dog, peep at flowers, munch sandwiches at lunchtime away from offices and, generally, feel that the city – our own particular city – is a benign place after all: unlike the latest skyscraper or apartment block, they are truly priceless.
The world's most beautiful city parks:
http://bbc.in/1vE1a0T