The World on Regent Street

An exciting new event: 'The World on Regent Street' took place on Sunday 12 May 2013, clearing the street of traffic and welcoming visitors from across the globe to Regent Street.






Countries that took part in this exciting new event include Argentina, China, Egypt, Great Britain, Trinidad and Tobago and Turkey. On top of this, vistors of Regent Street were able to enjoy a variety of other experiences throughout the day inspired by other parts of the world including France, Australia, India, Brazil and America. Offering samples of traditional dishes along with cultural performances in a carnival style atmosphere, the countries took to the street to showcase some of the very best aspects of their culture..

From costumed carnival dancers to Egyptian folkloric performances, Regent Street pulled out all the stops to give visitors a real flavour of each of the participating countries. Much to the delight of many children and adults alike, representing Great Britain were the much-loved Wallace and Gromit. This featured an enormous hot air balloon by Hamley's toy store, which towered over Regent Street.

Along with the variety of acts that performed on the day - incuding dancers from Argentina, Trinidad and Tobago and a troupe of American cheerleaders, visitors enjoyed a sunny day of sampling a range of flavours from across the globe along with a spot of retail therapy down Regent Street. Bringing together a myriad of cultures, all in one place, The World on Regent Street was a great success - a fun filled day for the family.

Events on the day... Turkey

Enjoy the delights of an authentic coffee shop experience whilst tasting the delicious flavours of Turkish food from Ozer restaurant and sampling chocolate-covered Turkish delights. After indulging in the taste of Turkey, why not hit the dance floor and enjoy the live Turkish band?

Egypt

Showcasing a fantastic array of folkloric performance and mouth-watering traditional cuisine, Egypt will also feature professional henna artists, papyrus illustration demonstrations, an elaborate display of Egyptian clothing and a vibrant 5 piece band.

Great Britain

Special guests Wallace and Gromit will be on Regent Street to promote fantastic holidays at home. Why not meet the famous duo and join them to enjoy their favourite British cheeses? A must see is the hot air balloon towering over the event; a sight not often seen in London's busy West End.

Chinatown

Visit Chinatown on Regent Street and be entertained by elaborate lion dancing performances set to animated Chinese drumming. Also, witness intricate Kung Fu demonstrations by some of the youngest masters of the art. Afterwards, head to the decorative area to experience Chinese calligraphy, brush painting, and face painting.

Argentina

An opportunity to experience the exquisite Argentine grill serving premium meat cuts prepared using traditional methods. To compliment the delectable food, visit the wine bar with highly distinguishable flavours from various regions throughout the country. Enjoy this cuisine whilst listening to live music and treat yourself to a tango lesson.

Trinidad and Tobago


Come to the Carnival and join the party atmosphere, where a steel pan band will provide the rhythm for a dance competition with amazing prizes to be won. Meet the roving carnival characters and dynamic dancers dressed in feathered costumes, who will put you through your paces. Don't miss a performance by the renowned '3 Canal' band in their debut on Regent Street and indulge yourself with delicious bites and fine rum cocktails.

AussieMite

Experience the essence of Australia with AussieMite and enjoy their delicious homemade savoury cupcakes baked fresh to perfection.

Retailer activity on the day... Anthropologie

To celebrate their American heritage, Anthropologie will be bringing a taste of America to its Regent Street store with an homage to home-baking and the iconic cupcake.

Café Royal hotel


Taste the best of British fare with the Menu Du Jour in the Ten Room at Café Royal hotel.

Telephone 0207 406 3310 to reserve a table to enjoy dishes including Paris Mushroom Velouté, Breaded Cutlet of Pork, Brown Sugar Tart and more.

Following a sumptuous lunch, treat yourself to the Prince Regent Cake exclusive to The Café at Café Royal hotel created by their renowned Executive Pastry Chef, Simon Jenkins, from Italian sponge soaked in limoncello and Bajan cane sugar.

Camper

Drop in to Camper for your complimentary mini-bottle of Codorniu Cava while you shop and receive a canvas bag with every purchase. (While stocks last)

Coach

Pay a visit to Coach and their All-American Milkshake bar. They will be giving out delicious milkshakes in a range of flavours all day

Crabtree & Evelyn

Pop into Crabtree & Evelyn for a cup of tea and biscuits or maybe a glass of fizz. Don't forget to enter the raffle to be in with a chance of winning one of three fabulous prizes

East India Company

Experience one of Britain's most favourite traditions- stop by The East India Company marquee at 3pm to catch a peek into the Art of Tea. Led by The East India Company Tea Master, Lalith Lenadora

Fornata

Look out for Fornata's waiters on Regent Street and Kingly Street, they will be serving delicious samples of Arancini con Scamorza, risotto balls with cheese and Small Pizzetas, mini margarita pizzas

GANT

Prepare for your holidays at GANT, spend over £250 and receive a free pair of swimming shorts. (While stocks last)

Hamleys

Go to Hamleys to meet the famous Wallace and Gromit pair on Sunday 12 May

Jaeger

Jaeger will be having Complimentary tea sampling from The East India Company in store

Juicy Couture

Get your fill of American sweets and candy at Juicy Couture on Sunday 12 May.

Also enjoy 10% off your purchase* when you sign up for the Juicy Couture email.

Excluding swimwear, sunglasses, kidswear, fragrance and watches

Karen Millen


Karen Millen will be running a Lucky Dip throughout the day. Don't miss your chance to win a personal styling session, £10 Gift Card, a Karen Millen Leather Cuff or 10% discount on all full price items!

L'Occitane

Stop by L'Occitane for your choice of a free 30ml Hand Cream when you spend over £35

Penhaligon's

Discover the world of fragrance at Penhaligon's at 12pm and 4pm. One of their fragrance experts will be giving exclusive tutorials on everything

fragrant! And if that doesn't float your boat, you can just pop in to receive a 15% discount off all purchases.


Ripley's Believe it or Not! London


Located just at the bottom of Regent St, Ripley's London is offering an amazing 50% off ticket prices for Sunday 12 May – customers just need to present an event programme or discount leaflet at the Ripley's admissions desk. Visit London's most wonderfully weird visitor attraction and marvel at over 700 remarkable relics and rare treasures from around the world – step inside and let your adventure begin!



Ted Baker

Ted will be offering complimentary drinks to shoppers as well as a complimentary Turkish shave and a 'London Born and Bred' tote bag as a gift with purchase. (While stocks last)

More events on Regent Street this May...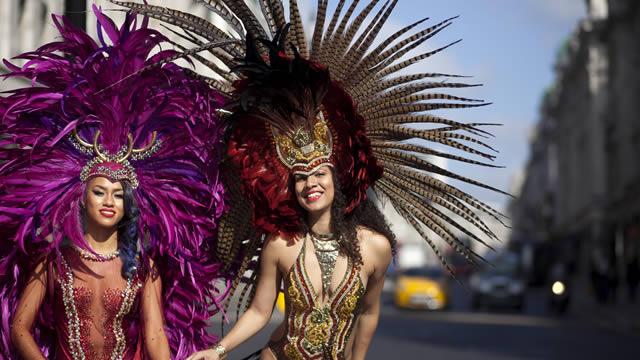 Carnival dancers Jennice Price and Lolo Page from Trinidad and Tobago at The World on Regent Street Festival
圖輯:倫敦攝政街的「世界文化大匯展」
更新時間
2013年 5月 13日, 星期一 - 格林尼治標準時間12:20