Syrian government 'to let aid into besieged Madaya'
The Syrian government has agreed to allow aid into the besieged rebel-held village of Madaya, the UN says, amid reports of residents starving to death.
Aid agencies say conditions in Madaya, near Damascus, are "extremely dire".
The UN said it also had government permission for access to Kefraya and Foah in the north but, unlike Madaya, these are besieged by rebel forces.
Up to 4.5 million people in Syria live in hard-to-reach areas, including nearly 400,000 people in 15 besieged locations who do not have access to the life-saving aid they urgently need.
'Nothing left to eat'
Madaya, which is about 25km (15 miles) north-west of Damascus and 11km from the border with Lebanon, has been besieged since early July by government forces and their allies in Lebanon's Shia Islamist Hezbollah movement.
The UN said it had received credible reports of people dying from starvation and being killed while trying to leave. On 5 January, a 53 year-old man reportedly died of starvation while his family of five continues to suffer from severe malnutrition, it said.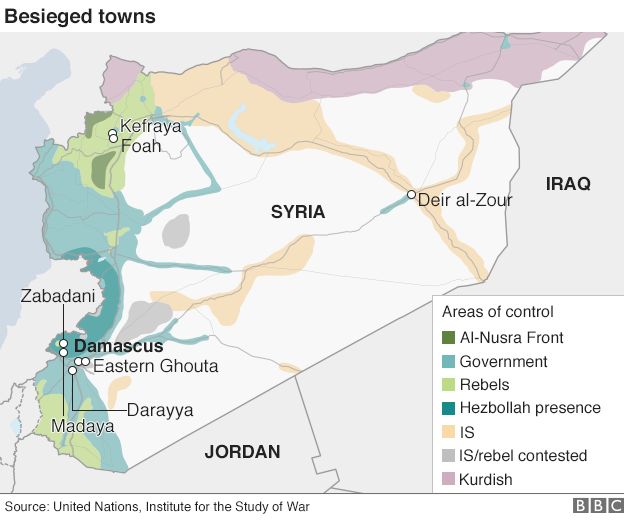 Aid lorries delivered medical and humanitarian supplies to the village in October, and medical evacuations took place in December, but it has been inaccessible since then, despite numerous requests for access.
Conditions have worsened with the onset of winter.
A Syria-based spokesman for the International Committee of the Red Cross, Pawel Krzysiek, told the BBC on Wednesday that he had visited Madaya during the last aid delivery and that the situation was now "even more dire".
"People here have started eating earth because there's nothing left to eat," Madaya resident Abdel Wahab Ahmed, told the BBC on Thursday. "Grass and leaves have died because of the mounting snow."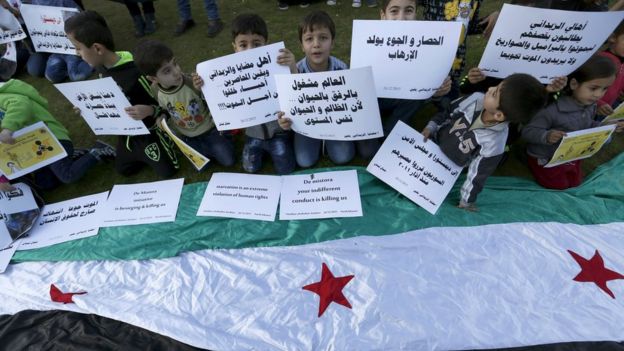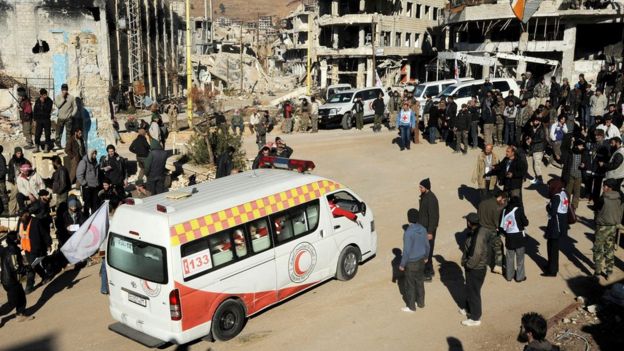 He described the lack of medical facilities for the sick and vulnerable as "terrifying".
The cost of basic goods has reportedly also surged, with 1kg (2.2lb) of crushed wheat selling for as much as $250 (£171) and 900g of powdered formula for babies going for about $300.
Activists said the siege of Madaya had been stepped up by the government and Hezbollah in retaliation for the rebel siege of Foah and Kefraya, which has lasted even longer.
The situation in the predominantly Shia villages, about 7km (5 miles) to the north of the city of Idlib, is also reported to have worsened since the fall in September of a nearby government air base where helicopters were able to drop off food.
Some of the estimated 30,000 people trapped in the villages have been forced to eat grass and undergo surgery without anaesthesia, according to wounded pro-government fighters evacuated at the end of December under a deal that also saw rebels and civilians allowed to leave Madaya.
The UN has warned that international humanitarian law prohibits the targeting of civilians, and also the starvation of civilians as a tactic of war.