Paris Philharmonie Wins Legal Battle Against Architect
Friday, April 17, 2015 - 02:11 PM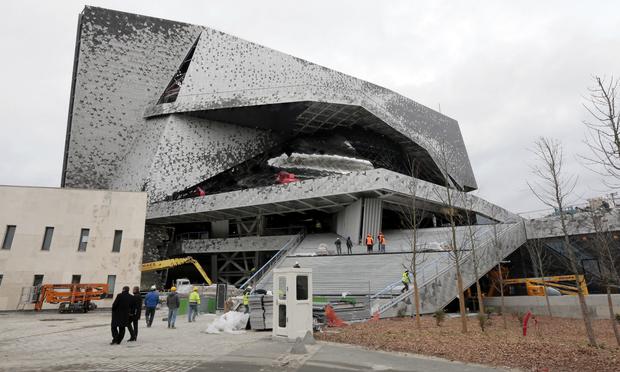 (Getty Images/JACQUES DEMARTHON/AFP)
The Philharmonie de Paris, the sleek concert venue in the outskirts of Paris which
opened in January
amid much controversy, has won a court battle with the building's architect.
Star architect Jean Nouvel had sued the leadership of the $455 million performing arts complex, asserting that it had "martyred" and "sabotaged" his work by opening nine months prematurely, in order to cut costs. He further asserted that the venue changed aspects of the facade and auditorium design without his consent. The architect's suit came after he snubbed the opening of the building and vented about it in the pages of
Le Monde
.
Nouvel's battle abruptly ended Thursday, however, when a Paris court found insufficient evidence of his claim. The documents he provided, "do not allow the court to assess the work asked for in its definitive state, both globally and in detail."
Nouvel vows he will "continue to fight for the Philharmonie." The venue will close its main hall this summer to continue construction.
MORE IN:
Brian Wise covers the classical music business for WQXR, including aspects of performance, technology, philanthropy and institutional trends. He produces the Café Concerts series and the podcast/show Conducting Business. He manages the station's homepage and makes sure what you hear on air is what you see online. Follow him on Twitter at

@Briancwise

.