Spectra: the dazzling column of light over London
After eight months of secrecy, a jaw-dropping pillar of light shot into the London sky last night to commemorate the first world war. Sean O'Hagan was given exclusive access to the artist and his artwork at the nerve-racking trial run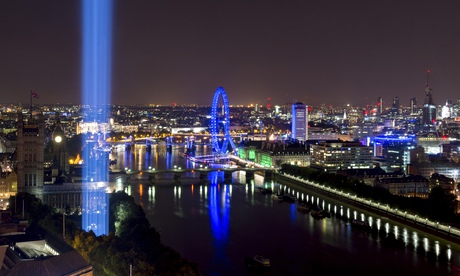 Last night, as darkness fell and the lights went out in businesses and households across Britain in remembrance of the outbreak of the first world war, a huge pillar of white light pierced the night sky above London, its brightness so intense that it could be seen over 12 miles away.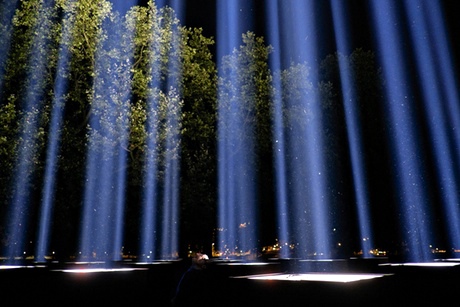 Ikeda, who exudes a focused calm throughout the preparations, nods. "When you experience it," he says, "any kind of context is suddenly gone. From a distance, it looks monumental and solid, but when you are in it, it is entirely meditative. People stare up in wonder. It causes necks to strain. The experience is so pure and direct, they can take it with them into their own life." Or project their own imaginings on to it – as when it was shown in Barcelona and hundreds of people phoned the police in a panic. "They were convinced it was a UFO landing," says Ikeda, grinning, "or a light from heaven."
"There is no way around it," Ikeda told me calmly. "It has to be tested, and it will take whatever time it takes to make the necessary adjustments. This is usually one minute per spotlight." Morris nodded nervously. "That's 49 minutes, Ryoji," he said. "Ten would be much better." So, just after midnight, the security light that had glared over the site, making the rows of encased spotlights look like metal gravestones, was turned off. As our eyes adjusted and two figures moved around the grid, the beams appeared one by one, then row by row, shooting silently up into the sky to a collective exhalation of breath. Ten minutes was all it took.
Tentatively, I wandered through the grid, while ominous waves of sound washed over me. It felt threatening at first, but then, as I surrendered to the immersive nature of the project, oddly calming. The first thing you realise is that, for such a static, minimal piece, spectra is a living, constantly changing entity: dramatic and subtle, geometric and shape-shifting, opaque and yet somehow solid. Standing close to the middle, I looked up, and all 49 pillars of light seemed to converge at a point somewhere high above my head. Just how high was impossible to tell – distance, like perspective, is distorted. A few steps sideways and the geometric pattern shifted and lost its symmetry. Positioning myself at a corner, I looked up at what seemed to be a single wall of whiter light that split the grid diagonally. On cue, a splat and hiss of shrill sound suggested a fissure of some kind.
The further back you go from the base, the taller and more solid it seems, as the thin beams become one. Across London, on elevated points like Primrose Hill or Crystal Palace, it looks like one single shaft of white light touching infinity somewhere high above the earth – one can only sense its epic reach on a cloudless night. A few minutes into the trial, spectra came alive in an entirely different way as moths and flies flickered in and out of the light, and condensation rose off the spotlights like dry ice. "A bit Pink Floyd, that," said Deller. One can indeed imagine devotees of Meddle-era Floyd making a deep connection with the ambient soundtrack and flickering towers of light.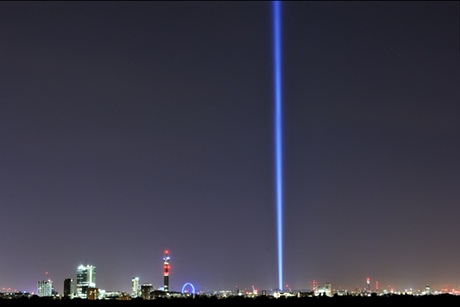 The history and logistics of spectra are intriguing. In Paris in 2008, it comprised a grid of 64 spotlights; in Amsterdam that same year, 25 spotlights pierced the sky at four different sites; in Buenos Aires in 2012, it took the form of a 100m-long linear projection. Ikeda has now settled on the 7x7 formation, which requires a crew of about 30 technicians, many from the Paris-based Skylight company, who designed and installed the spotlights that illuminate the Eiffel tower. It runs off four generators fuelled by biodiesel and, according to Ikeda, "each spotlight is four kilowatts, so over the seven days, its total energy consumption will be equivalent to 10 to 20 households."
Last night, though, its power was more sombre: a vast tower of light pointing to the heavens in contrast to the single flickering candle left burning on the Tomb of the Unknown Soldier in Westminster Abbey. The humble and the monumental, each in their own way, encouraging a sense of reflection and reminding us of that dark moment 100 years ago when, as the British foreign secretary Edward Grey famously remarked: "The lamps are going out all over Europe – we shall not see them lit again in our lifetime."